Whoopie Pies for Weddings, Showers and More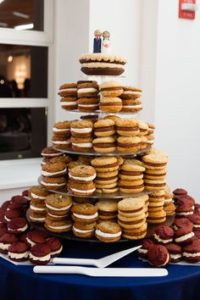 Weddings and everything leading up to them have become so creative and unique that you find yourself remembering the seating chart, flowers, signs and the hashtag you used on Instagram.
A cake is wonderful tradition for the bride and groom to share but what better way to leave people talking about your wedding than with a unique dessert, like whoopie pies! If it isn't the wedding you are looking for, we have the perfect dessert or favor for bridal showers, bachelorette parties and other wedding related events.
Our whoopie pies are individually wrapped and easy to store until the big day, just freeze them. To find out more about bulk ordering for weddings and events call us directly,  888-224-3548! Say yes, to Boston Baking Inc whoopie pies!