How to Store Your Dessert in the Summer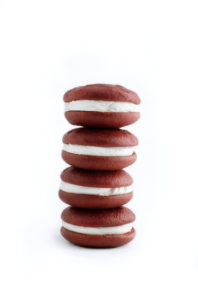 Baked goods such as Whoopie Pies and Crumb Cakes make for the perfect summertime treat at any cookout or picnic, but transporting the dessert from your home to the park can become a sticky situation.
Storage Conditions are Important
Under normal conditions, baked goods should be stored in an airtight container to give them a longer shelf life and to keep them from becoming stale. Rather than leaving your baked treats out on the counter, keep them sealed in an airtight container to ensure cookies stay chewy and cakes remain fresh.
However, during the summer months keeping your desserts in an airtight container can create problems for moist baked goods.
If the temperature of the room is too hot, heat can start to build up inside the container and your cake can start to release moisture from inside. When this happens, you'll notice steam building up from within the airtight container. If left alone, the baked good will end up soggy around the edges and the cake can begin to spoil quickly due to the warm environment.
How to Fix the Issue
The best thing to do during the summer is to try to keep the heat away from your baked goods. Try storing the baked goods in a cool place and away from direct sunlight. In the event of a hot day, keep your storage container slightly open to allow airflow within the container. This will prevent heat from getting trapped within the container.
If you need to transport your dessert during extreme conditions or somewhere with a lot of sunlight, try refrigerating your desserts in an airtight container. The refrigerator will dry out the baked goods, but it will cool down enough to survive a trip to a cookout or outdoor event.