The Origin of the Whoopie Pie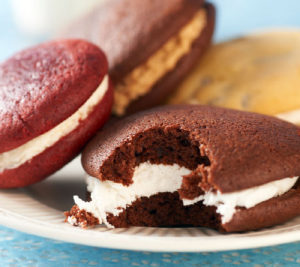 We are all familiar with the classic Whoopie Pie: two fluffy layers of cake with a decadent layer of sweet cream or icing filling. But the question is, where was the Whoopie Pie first introduced? Depending on who you ask, you may receive different answers.
There is much debate on whether the Whoopie Pie had originated in the New England region of America or whether its roots lie in the state of Pennsylvania. New England residents claim that the Whoopie Pie had its start in Massachusetts, while some may believe that the Whoopie Pie was a product of Amish farm kitchens in Pennsylvania.
Ties to New England
New England's love of the Whoopie Pie can be traced back to Durkee-Mower, the makers of marshmallow crème or what we call Marshmallow Fluff today. In the 1930's, Durkee-Mower had a variety show called the Flufferettes. The final episode of the variety show featured the Yummy Book, which was a recipe book that featured cakes, cookies, and the infamous Whoopie Pie.
The very first known advertisement for Whoopie Pies was dated from 1931 by the Berwick Cake Co. in Roxbury, MA. On the old Berwick Cake Co. building, you can still see faded letters "Whoopie! Pies" on the side of the building. The state of Maine has also had something to say about the origin of the Whoopie Pie. In 2011, the state declared the Whoopie Pie as the official treat of the state of Maine.
Ties to Pennsylvania
Pennsylvanian residents claim that Amish cooks were the first to make the Whoopie Pie or an extra cake batter sandwich with a sweet cream or icing filling. They say that the recipe for the Whoopie Pie goes back centuries, originated by Pennsylvanian Dutch families.
The name "Whoopie Pie" has several unique origins according to Pennsylvanian residents. One such origin being the cheer that children would scream when they see the treat in their lunch box. Another is what the Amish women would say when checking on their cakes in the oven. In the Johnstown area of Pennsylvania, the Whoopie Pie is known by another name entirely, a Gob.
Pennsylvania also holds an annual Whoopie Pie Festival, this year the festival is located in Lancaster County, PA.
No matter where your loyalty lies, we can all agree that the Whoopie Pie is a unique dessert that we all know and love.